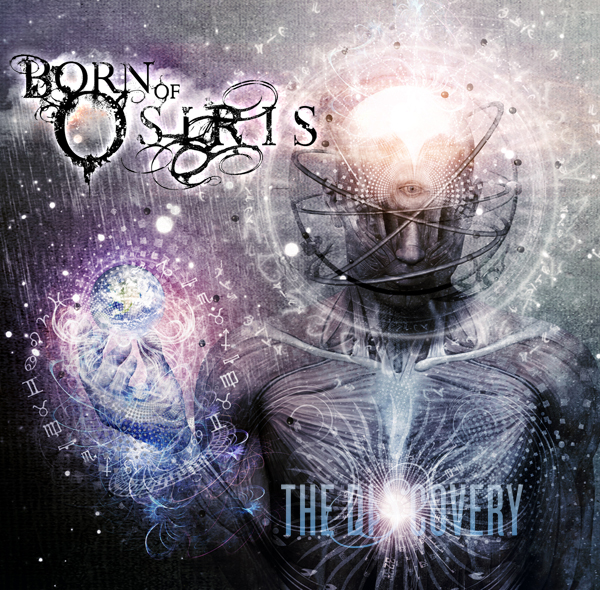 The year of 2011 is on its way to coming to a close, and what a year it has been for heavy metal! I think that 2011 has been the best year deathcore has seen so far. Mainly due to there being SO MANY amazing deathcore releases. Bands have been releasing their best albums this year. Bands such as All Shall Perish, As Blood Runs Black, Attila, Emmure, Fit for an Autopsy, Rose Funeral, and best of all, Born of Osiris have been putting out their best records yet, and it has been an amazing ride. This definitely ties with All Shall Perish's "This is Where it Ends" as the best deathcore record of 2011. Now Born of Osiris has never been a favorite of mine, although I have always greatly appreciated them, they've never really put something out that spoke out to me, until now.
I've never really been a fan of their keyboardist, mainly because what he plays doesn't often perfectly fit the rest of the music. But in the intro of "Follow the Signs", they keyboards make the sound so mystical and atmospheric, it's actually pretty astonishing. So for those of you that feel that metal has to be strictly guitars, bass, drums, and growls/screams, this song was made to prove you wrong. One of my friends that graduated from high school a couple of years ago is actually friends with Born of Osiris. In fact, when he was in this one deathcore band called All Safeties Off, his band opened for Born of Osiris a couple times before they split up. It's really amazing how this is the same situation as Soilwork, All Shall Perish, Attila, Immortal, Watain, Eternal Tears of Sorrow, Skeletonwitch, and Decapitated where each album is better than the previous one!
The overall quality of the song structure is nothing short of outstanding. It's not pure breakdowns like most of you anti-deathcore guys think it is; every single song is well-thought out and perfected. Another thing that I have noticed is that the amount of songs gets bigger on each album; their debut having 8, A Higher Place having 13, and now, The Discovery having 16 amazing tracks. I don't know if this is just a sudden boost of inspiration within the band or if some of the tracks are really just old songs that were put away and forgotten about to be dug up and perfected.
The abstract drumming style is what makes this album ear candy for those of you headbangers (myself included). Although it's not brutal, the record still has that special breakdown-like tempo flowing through the bass and the drums that give's any metalhead that weird impulse that causes you to start moving your head without even knowing it at first. It's actually really weird, I first experienced that when I first heard the song "Stabbing the Drama" by Soilwork back in early 2009. Everywhere I've looked, there have been rave reviews of this album with very few unsatisfied people (if any). For those of you deathcore fans that have done several failed attempts to get certain metal fans to like a deathcore album/band/song, this is the album to use. This album has turned hundreds of people around to help them appreciate the metalcore/death metal mix that hasn't even been around for 10 years.
The band's lyrics have always been sort of like…abstract ancient Egyptian mythology with some futurism/science fiction mixed in. This album tends to focus more on the futurism/psychedelic sci-fi themes; and this progression has had some pretty great outcomes. I've always really liked these bands that have abstract science fiction based themes and lyrics because (besides being a sci-fi fan myself) it's nice to see death metal bands looking for other things to write about other than death and destruction; the realms of futurism and science fiction are limitless.
Overall, this is one of the best albums of 2011 next to Fleshgod Apocalypse's Agony, All Shall Perish's This is Where it Ends, Decapitated's Carnival is Forever, Origin's Entity, DevilDriver's Beast, Symphony X's Iconoclast, and Opeth's Heritage. Perfect score without a doubt.